Gilles Ivaldi est chargé de recherche CNRS au CEVIPOF, Centre de recherches politiques de Sciences Po, UMR du CNRS 7048.
Recherches actuelles
Les recherches de Gilles Ivaldi portent sur les partis de droite radicale et le phénomène populiste en Europe occidentale dans une perspective de sociologie politique comparée.
Les formations de droite populiste radicale occupent une place centrale sur l'échiquier politique européen. L'émergence de nouveaux acteurs et l'évolution de partis et mouvements plus établis continuent de poser de nombreuses questions quant à l'impact des droites radicales sur les systèmes politiques au sein desquelles ces partis évoluent et la transformation des lignes de clivage sur lesquelles ils opèrent et mobilisent.
Un second grand pôle des activités de recherche de Gilles Ivaldi concerne la question du populisme et de ses diverses manifestations. L'approche comparative de ces populismes « pluriels » est un enjeu important et se centre sur deux aspects.
D'une part, il s'agit de contribuer au champ d'étude des populismes de gauche et de droite, la recherche des éléments de convergence de phénomènes issus de traditions politiques différentes mais opérant cependant sur des ressorts de mobilisation communs.
En second lieu, il convient de s'interroger sur les liens entre populisme et nationalisme, sur la question de l'articulation entre populisme et opposition à l'intégration européenne. Plus généralement, les populismes sous toutes les formes représentent aujourd'hui une importante force de résistance à l'internationalisation et mobilisent à ce titre le sentiment national.
Programme européen "Contextes Infra-Nationaux et vote de droite radicale en Europe" (SCoRE)
Gilles Ivaldi est reponsable en France du programme de recherche international Open Reseach Area in the Social Sciences (ORA), co-financé par l'ANR (France), DFG (Allemagne), ESRC (Royaume-Uni) et NWO (Pays-Bas), pour une période de trois ans (2016-2018). Ce projet, intitulé "Sub-national context and radical right support in Europe (SCoRE) / Contextes Infra-Nationaux et vote de droite radicale en Europe" est conduit en France par l'URMIS en partenariat avec l'Université de Mainz (Allemagne), l'Université de Leeds (UK) et l'Université d'Amsterdam (Pays-Bas).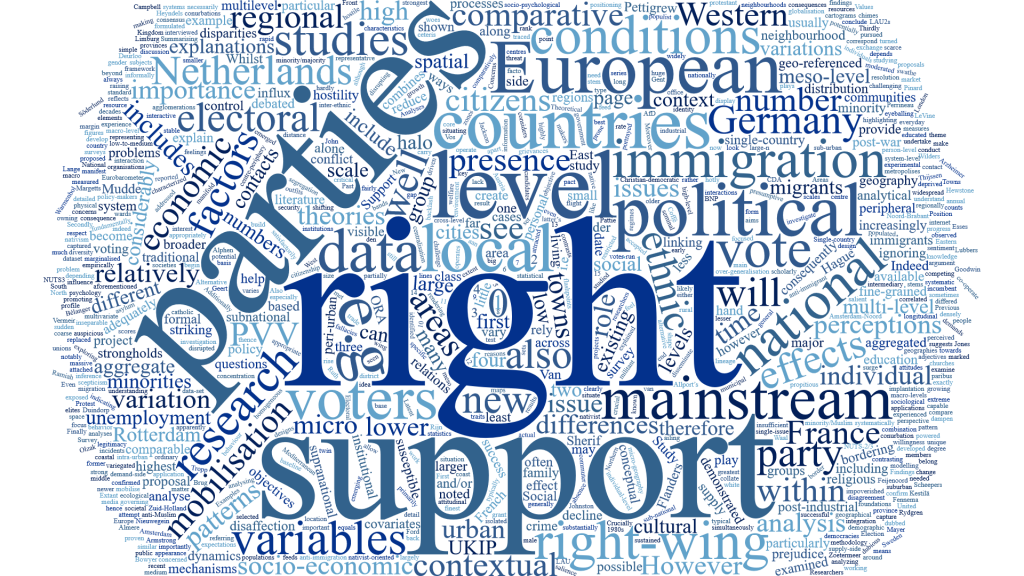 Ce projet comparatif propose une approche interdisciplinaire réunissant politologues, sociologues et géographes pour la construction d'un modèle analytique multi-niveaux du vote de droite radicale dans quatre pays clés (France, Allemagne, Pays-Bas et Royaume-Uni).
Ce projet de trois ans s'attachera dans une première phase à collecter l'ensemble des données secondaires, politiques et socio-économiques, disponibles auprès des organismes officiels pour construire une base de données longitudinale, comparative, élaborée à divers niveaux d'agrégation territoriale. En second lieu, le projet prendra appui sur ces données agrégées aux niveaux macro et meso pour la conduite d'une enquête par questionnaire standardisé auprès d'échantillons larges dans chacun des quatre pays, qui permettra le recueil et l'actualisation d'un ensemble d'indicateurs socio-démographiques, attitudinaux et comportementaux au niveau individuel. Enfin, ces deux bases de données seront combinées au sein d'un même modèle complet d'effets mixtes, qui permettra d'identifier les contributions respectives des données de contexte et des attributs individuels à l'explication du soutien aux partis de droite radicale en Europe. Les résultats permettront une compréhension, à un niveau de précision sans commune mesure avec les travaux existants, de ces déterminants, offrant une opportunité majeure d'avancer la connaissance du phénomène, tant d'un point de vue scientifique et théorique, qu'à destination des forces sociales, décideurs politiques et acteurs économiques au sein de l'espace public européen.
http://urmis.unice.fr/?Contextes-Infra-Nationaux-et-vote
https://www.researchgate.net/project/SCoRE-Sub-national-context-and-radical-right-support-in-Europe
http://www.score.uni-mainz.de/about-score/
Derniers ouvrages parus
Blog & Analyses
Entre janvier 2012 et 2017, Gilles Ivaldi a administré et animé en collaboration avec Jocelyn Evans, de l'université de Salford, le blog d'analyse des élections et de la politique en France : 500signatures.net.
Enseignements
Introduction to EU Migration Policy, Master 2, « Migrations Studies », Université de Nice Sophia-Antipolis (2019-2020)
Quantitative Analysis, Master 2, « Migrations Studies », Université de Nice Sophia-Antipolis (2019-2020)
Populism and Immigration, Master 2, « Migrations Studies », Université de Nice Sophia-Antipolis (2018-2019)
Populist Radical Right Voting in Europe : Quantitative Political Analysis Workshop, premier cycle Moyen-Orient Méditerranée, Sciences-Po Paris (2018-2019)
Politiques d'immigration en Europe, Master 2 « Migrations, villes, dynamiques sociales », Université de Nice Sophia-Antipolis (2006-2019)
Mouvements populistes en Europe, Master 2 « Migrations, villes, dynamiques sociales », Université de Nice Sophia-Antipolis (2009-2011)
Sociologie électorale, Master 2 « Gouvernance, carrières publiques et métiers du politique », Université de Nice Sophia-Antipolis (2007-2009)
Pratique des sciences sociales, statistiques appliquées, premier cycle Moyen-Orient Méditerranée, Sciences-Po Paris (2005-2010)
Habilitation à diriger des recherches
Ivaldi, Gilles (2020) Populisme et globalisation : enjeux, conflits, opportunités. Mémoire d'Habilitation à Diriger des Recherches en Science Politique, Sciences Po Paris, 16 décembre
Liens externes
---