AREAS OF RESEARCH :
Geographical: South-west of France; Northern Spain; Liguria (Italy); Mongolia; Eurasia


Chronological: Upper Palaeolithic (Gravettian)


Themes: Lithic technology; Portable art; Female figurines; Nomadism and sedentary lifestyle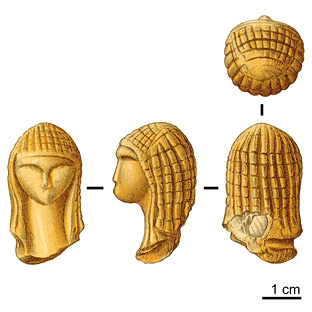 Gravettian (about 30,000 years) - Mammoth ivory
After Piette, 1907, plate LXX
LINE OF RESEARCH N° 1: GRAVETTIAN EUROPE

The main area of ​​my research concerns the Gravettian. The "Gravettian" designates a phase of the Upper Palaeolithic that lasts about 10,000 years, between 34,000 and 25,000 years before present. The "Gravettian" also corresponds to one of the oldest cultures attributed to Homo Sapiens in Europe.

The decorated caves of Cosquer, Cussac, Pech-Merle and Gargas as well as the female figurines of Brassempouy, Lespugue and Willendorf are the emblematic works of the Gravettian.

The research I have carried out on Palaeolithic material productions (lithic industry) is inscribed in the heritage of "the Tixier school", named after the great French prehistorian Jacques Tixier (1925-2018). They made it possible to propose a typology of flint projectile weapon elements such as "backed points", "shouldered points" and "backed bladelets" which development characterizes the Gravettian.

My studies focused more specifically on sites with female figurines such as Brassempouy (Landes, France) and the Balzi Rossi (Liguria, Italy) and raised the question of the first appearance of the settled way of life in the Upper Palaeolithic. My work also pleads in favor of a European, even Eurasian, Gravettian cultural unity despite some phenomena of regionalization.
Gravettian projectile weapon elements from Isturitz cave, level IV. Nos 1 to 3: Vachons points. Nos 4 to 6: truncated backed bladelets. Nos 7 to 9: bladelets with light retouch. Nos 10 to 13: backed bladelets. Nos 1, 2, 3, 4, 7: Saint-Périer collection, level IV, MAN. Nos 5 and 6: 2008 sieving.
N° 8: 2004 sieving.
Nos 9 and 10 to 13: 2005 sieving (n° 1 after Saint-Périer, 1952, fig. 43 – n° 11 modified; n° 2 after Saint-Périer, 1952, fig. 42 – n° 8 modified; nos 3 to 13: drawings A. Simonet).



LINE OF RESEARCH N° 2: HERITAGE INTERPRETATION

In the context of heritage promotion and archaeology awareness projects in France, Croatia and Mongolia, I applied the Anglo-Saxon "heritage interpretation" approach. It proposes to draw a picture to a specific territory by taking into account all the data (economic, human, natural and cultural heritage).

This global understanding of a site has been applied, since 2014, to the development of the touristic and cultural heritage project of Brassempouy (Landes).

Finally, within the framework of the creation of museographic mechanisms, conferences and publications for the dissemination of scientific knowledge, I sought to reconcile the use of "academic" scientific information and the construction of an "artistic work" for the purposes of stimulating as fully as possible public curiosity.
---